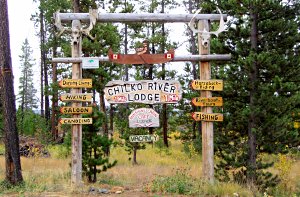 Enjoy a wilderness adventure at Chilko River Lodge & Guest Ranch.
Our lodge, on the banks of the famous Chilko River, is surrounded by marvelous scenery including Ts'ylos Provincial Park. We are in the heart of the Chilcotin on the eastern foothills of the Coast Mountains, where nature abounds offering refreshing spirits to rejuvenate the body and soul. This is a land of towering mountains, fresh air, horseback riding, fishing in clear blue lakes and adventure hiking through immense forests and alpine meadows.
We are a small outfit that includes your hosts, the Wittwer family. To our lodge family belongs further nine horses, several cats and our dogs Smokey, Manulito and Koda. They are all friendly and animal loving children will always find a playmate. Come and enjoy your stay at the Chilko River Lodge and experience the natural wild beauty of the Chilko area. Surrounded by spectacular peaks and glaciers and the wonderful scenery of Ts'ylos Provincial Park, the outdoor activities available to our guests are endless!
A variety of wildlife are living in the area. You may see Bald Eagles, Golden Eagles, Deer and Beaver. During mid August the sockeye salmon begin arriving. All of September the waters of the Chilko River are alive with spawning red salmon - truly a sight to see! This in turn draws the bears closer and makes this the best time for possibly viewing and photographing Black Bears and Grizzly Bears.